Sonntag 24. Juni 2001, 16:16 Uhr
Vulkan Mayon speit Steine "so groß wie Laster"
Legazpi (Reuters) - Auf den Philippinen hat sich die Aktivität des Vulkans Mayon am Sonntag verstärkt. Außer brennender Asche und Lava-Fontänen spuckte der Berg Brocken, die Augenzeugen zufolge so groß wie Lastwagen waren. Vulkanforscher riefen die höchste Alarmstufe aus und erklärten, der Ausbruch könne ein bis zwei Wochen dauern. Etwa 23.000 Menschen flüchteten aus der Umgebung des Vulkans. "Wir beeilen uns alle", sagte der Bürgermeister eines der Dörfer am Fuß des Vulkans. "Wir haben Angst und haben nicht einmal mehr zu Abend gegessen." Die Region liegt rund 330 Kilometer südöstlich von der Hauptstadt Manila. Der Mayon ist seit Januar unruhig.
Einem starken Ausbruch gegen Mittag folgte zwei Stunden später eine weitere heftige Eruption, bei der umgebende Dörfer mit schwarzer Asche bedeckt wurden. Lava floss mit einer geschätzten Geschwindigkeit von 100 Kilometern pro Stunde und einer Temperatur von 900 Grad den Hang des Mayon herunter. Eine Rauchsäule schoss bis zu zehn Kilometern in die Höhe und in der Provinzhauptstadt Legazpi verdunkelte sich der Himmel. Noch in zwölf Kilometern Entfernung bebte die Erde.
Nach dem zweiten Ausbruch rannten in den umliegenden Dörfern Frauen mit ihren Kindern aus ihren Häusern. In den Kirchen läuteten die Glocken und Bürgermeister ließen Sirenen heulen, um die schlafenden Menschen zu wecken und zur Flucht zu bewegen. Im Dorf Matanag standen Kinder in Gruppen herum und schauten fasziniert zu, wie Lava-Fontänen aus dem Krater des Berges schossen. "Es ist wie Weihnachten", riefen einige, während ihre Eltern hastig ihren Besitz zusammenpackten.
Sicherheitskräfte hinderten Bewohner mit Gewehren daran, nochmals in bereits verlassenen Häuser zurückzukehren. Ein Mann erlitt einen Herzinfarkt. Eine Frau kam mit ihrem Kind nieder. Ein Rettungswagen erfasste auf dem Weg in das Gebiet einen flüchtenden Radfahrer und tötete ihn. Bei der Evakuierung des Dorfes Daranga stießen Soldaten mit kommunistischen Rebellen zusammen und lieferten sich ein zehnminütiges Feuergefecht. Bericht über Verletzte langen nicht vor.
Der Mayon gehört zu den 22 aktiven Vulkanen auf den Philippinen. Er ist in den vergangenen 400 Jahren 45 Mal ausgebrochen. Der schlimmste Ausbruch ereignete sich im Jahr 1814. Lava, Schlamm und Steine begruben damals eine ganze Stadt und töteten 1200 Menschen. Im vergangenen Jahr hatte er eine Serie von Eruptionen über drei Wochen hinweg. Niemand kam dabei ums Leben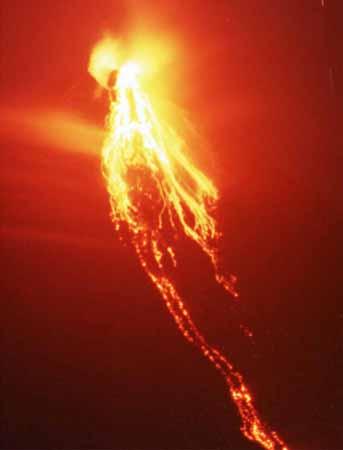 Sunday June 24 4:17 PM ET
Philippine Volcano Spews Truck-Sized Boulders
LEGAZPI, Philippines (Reuters) - Tens of thousands of villagers fled their homes as the Philippines' Mayon volcano unleashed a series of thunderous eruptions on Sunday.
Scientists said Mayon was spitting out flaming ash and boulders as big as trucks. There were no casualties directly as a result of the eruptions, but one man trying to flee on a bicycle was knocked down and killed by a truck.
Witnesses said deafening booms rang out and giant cauliflower-shaped clouds of dust, ash and smoke shot up to six miles into the sky, darkening this provincial capital of 120,000 people as well as surrounding towns.
The blasts prompted the Philippine Institute of Vulcanology and Seismology (Phivolcs) to raise the alert level around the volcano to a maximum five, meaning ``a hazardous eruption is in progress.''
Officials said about 23,000 villagers fled their homes as the series of explosions, which began on Saturday night, intensified on Sunday and shook villages as far as 12 km (eight miles) away.
``The rocks coming down are as big as trucks,'' vulcanologist Alex Baloloy said just before the first big blast at noon. A more powerful blast two hours later showered villages with ash -- so-called black rain -- and sent mothers scurrying out of their homes clutching their babies in their arms.
``Leave, let us all leave,'' one mother cried as the mountain heaved and the ground under her shook. Residents of the capital Legazpi, 7.5 miles from Mayon's summit, watched with fear and awe as the 8,000-foot-high mountain released its fury.
RIVERS OF FIRE
``I heard what seemed like a huge thunder and I saw dark clouds ... then more boom-boom sounds,'' local journalist Rhaydz Barcia said. Moments later, fiery rocks and gas thundered down the volcano's slopes at speeds estimated at 60 mph.
Phivolcs chief Raymundo Punongbayan said the ``rivers of fire'' bore temperatures of 900 degrees Centigrade, hot enough to incinerate anything in their path. The eruption might last one or two weeks, he said. Army trucks and police cars sped out of Legazpi to threatened villages in a massive evacuation effort. Some villagers fled on carts driven by carabaos (water buffaloes).
In the panic, one woman collapsed with a heart attack while a pregnant mother prematurely gave birth, rescue officials said.
One villager fleeing on a bicycle was killed when a speeding van carrying rescue teams struck him, officials said. Another truck full of evacuees fell into a canal, injuring some of them.
In Daraga town, soldiers rushing to evacuate villagers ran into gunfire from communist rebels, triggering a 10-minute gunbattle. No-one was reported killed.
Priests tolled church bells and village chiefs sounded sirens to rouse sleeping residents and order them to flee. In Matanag village, reporters saw parents shaking with terror as they hastily packed up their possessions while clusters of children, oblivious of danger, watched fountains of lava shooting up from the crater.
``It's just like Christmas,'' some of the children chanted. Mayon, located in Albay province, 205 miles southeast of Manila and one of the Philippines' 22 active volcanoes, has a history of 45 violent eruptions since its first recorded blast in 1616. The deadliest occurred in 1814 when it buried a town under mud and rocks and killed 1,200 people.